Playboy's Hugh Hefner: Empire of Skin
Darwin Porter, Danforth Prince
ISBN: 978-1-936003-59-4
Price: $34.95
Trim: 6" x 9"
Page Count: 650
Hugh Hefner, the Playboy of the Western World, was a visionary publisher, an empire-builder, an avatar of pleasure, and a pajama-clad pipe-smoker with a pre-coital grin.
In 1953, he published his first edition of Playboy, with Marilyn Monroe on the cover and her nude calendar inside. He obtained the rights for $500 with money borrowed from his puritanical Nebraska-born mother.
Rebelling against his strict upbringing, he lost his virginity at the age of 22. "I made up for my late start. In three years, I reached Don Juan's legendary benchmark of 1,003 conquests."
Playboy, punctuated with nudes and studded with articles by major literary figures, rapidly increased its circulation, reaching its zenith at eight million readers. In addition to his role as a "tasteful pornographer," Hef became a cultural warrior, fighting government censorship all the way to the U.S. Supreme Court after the Post Office refused to deliver his magazine to its subscribers. As the years and his notoriety progressed, he became an advocate of abortion, LGBT equality, and the legalization of pot.  Eventually, he engaged in "pubic wars" with Bob Guccione, founder of Penthouse, which cut into Hef's sales.
Video links for Playboy's Hugh Hefner
Print links for Playboy's Hugh Hefner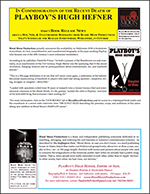 Book Release News