Love Triangle
Ronald Reagan, Jane Wyman, and Nancy Davis—All the Gossip Unfit to Print
Darwin Porter & Danforth Prince
Much of the world remembers Ronald Reagan as a geriatric president from the 1980s, but when he arrived in Hollywood during the late 1930s, he was billed as "a hunk of beefcake." On the Warner's lot, he vied with Errol Flynn as a Tinseltown Lothario, seducing female stars and wannabees from throughout the entertainment industry.
Before there was Nancy, our first divorced President (Ronald Reagan) was dysfunctionally married to the Oscar-winning, Golden Age star Jane Wyman, who had already had two mysterious marriages before she landed Reagan. This book presents the saga of their tumultuous eight-year union, at the end of which she made the horrible mistake of battling Marilyn Monroe for the affections of bandleader Fred Karger, and falling disastrously in love with Rock Hudson
LOVE TRIANGLE examines the rise of Ronald Reagan as a political insider in Hollywood, with insights into his feuds with Bette Davis, Ginger Rogers, Errol Flynn, and Humphrey Bogart. His controversial (some say "collusional" ) eight-year career as President of the Screen Actors' Guild is explored, along with his associations with the Mob and subsequent death threats.
Nancy Davis's secret past is explored, beginning with her days of fiercely ambitious social climbing. Revealed are her affairs with stars who included Clark Gable, Milton Berle, Frank Sinatra, Spencer Tracy, Robert Walker, and Yul Brynner. Long before 1972, when Linda Lovelace starred in Deep Throat, Nancy was known around Hollywood for her "specialty." Available in February 2015.
Details
Paperback 13-978-1-936003-41-9/10-1-936003-41-4
Trim size 6x9 Ppg 696
Video links for Love Triangle
Print & emedia links for Love Triangle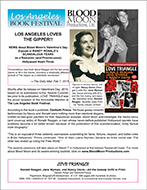 Press release from the Los Angeles Book Festival