Bill and Hillary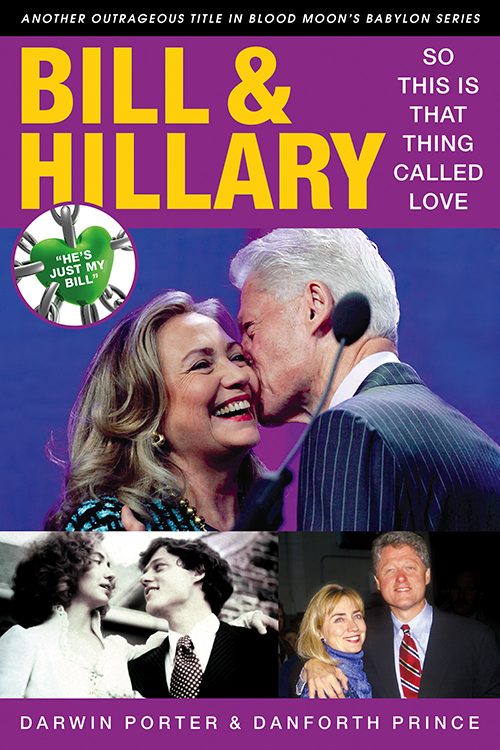 So This is that Thing Called Love
Darwin Porter & Danforth Prince
Whereas Tabloid Kings Darwin Porter and Danforth Prince have already exposed the charismatic excesses of the Kennedys and the Reagans, they now aim their liberal and Democratic lasers onto dramas associated with their all-time favorite politicians, the Clintons.
In this hot new "I Love You Madly" overview of the most likely Presidential candidates for election in 2016, they examine the "conjoined-at-the-hip" love story of Bill and Hillary.
Tabloid Exposure and Timing: As America propels itself into 2016's bloodthirsty search for presidential scandal, this book is rich in ironies associated with pandemic sex, vendetta, and subterfuge that's naughtier than a Hollywood scriptwriter could ever have imagined.
Never in the history of the Republic have we heard such emphasis on the spirit and language of True Grit. Some of the dialogue reported by witnesses to the Clinton saga makes Richard Nixon's taped rants seem like a script from Shirley Temple's Rebecca of Sunnybrook Farm.
Presidential Politics: It's all here, the glitter, glamor, sex, money, and power, but also the betrayals, the exposures, the epic fight for love and glory, a kick in the groin about high adrenaline sex.
Shadowy Figures from the Twilight Zone: It's also a book about the men and women, and their hangers-on, who run the government, ultimately ruling over the free world.
As a contribution to the current political dialogues inundating the country, this hot new title will be available EVERYWHERE, online and in bookstores, in late October/early November.
Details
Paperback 978-1-936003-47-1 • 1-936003-47-3
Trim size 6x9 Ppg 576
Video links for Bill and Hillary
Print & emedia links for Bill and Hillary
Bill & Hillary: RUNNER UP to BEST BIOGRAPHY OF 2015 by the Awards Committee at the 2016 NEW ENGLAND BOOK FESTIVAL