Rock Hudson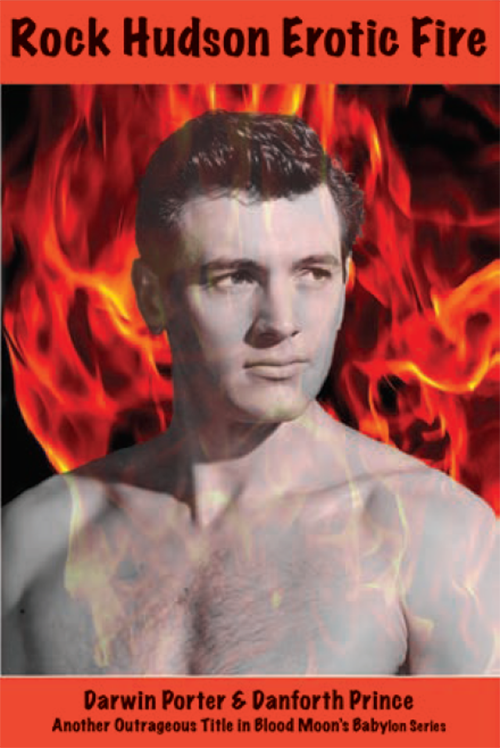 Erotic Fire
Darwin Porter & Danforth Prince
Rock Hudson reigned in the late 1950s and early '60s as "Hollywood's greatest ambisexual swordsman," seducing icons who included Marilyn Monroe, Eelizabeth Ttaylor, Errol Flynn, Ttyrone Power, Joan Crawford, Ava Gardner, and Lana Tturner. Mamie van Ddoren, the busty, provocative, and promiscuous bombshell, asserted loudly that "the boulder that Rock's agent named him after was a big one."
Fresh out of the navy, the muscled, 6'4" hunk arrived in Hollywood with an understanding of what he wanted: "I don't want to be an actor... I want to be a movie star!" To that end, between gigs as a truck driver, he donned very tight, faded jeans and stationed himself seductively close to the gates of such studios as Warners and Universal. Eventually, he was "discovered." Years later he said, "I didn't give a damn how many casting couches I had to lie on."
Eeventually, he was assigned roles in a string of B-pictures, playing handsome Apaches, easy-on-the-eyes sea captains, and drop-dead gorgeous "Ordinary Joes" whose charm moviegoers remembered, and eventually clamored for. Colleagues and power players in Hollywood demanded him up close and personal, too. According to Yvonne de Carlo, "Rock was predatory after midnight."
Stardom finally arrived based on a performance opposite Jane Wyman (she had divorced Ronald Reagan) in that soapy melodrama, Magnificent Obsession (1954). Obessesively replicating her passion offscreen, she wanted to marry him.
Hudson had already been defined as "the sexiest man alive" when he was assigned the role of a Texas rancher in Giant (1956). During its filming in the dusty hamlet of Marfa, Texas, he sustained affairs with both Elizabeth Taylor and James Dean.
Three eventful years later, his status as one of the most popular (and most consistently profitable) actors in Hollywood was reinforced, based on his co-starring performance opposite Doris Day in Pillow Talk (1959). Together, as a captivating duo, Hudson and Doris Day went on to appear in other "artfully campy" battles of the sexes.
Usually in secret, Hudson's close friends and lovers asserted that his greatest performances were the "personae" he was forced to act out in public as a means of sustaining his heterosexual credentials. Privately, he performed, perhaps addictively, in many hundreds of (nominally) secretive sexual trysts, fighting off blackmail attempts and investigations by the FBI. He went on to survive a hastily arranged marriage to Phyllis Gates, who later emerged as a manipulative antagonist with a blackmailing agenda of her own.
Rock Hudson Erotic Fire, based on dozens of face-to-face interviews with the actor's friends, co-conspirators, and enemies, and researched over a period of a half century, reveals the shame and irony of Hudson's complete, never-before-told story.
Although maligned by the media because of the stigmas associated with his AIDS-related death in 1985, Rock showed inner courage and manly grace as he lay dying. "This is my shining hour," he told his closest friends, as the media rushed to "out" him as a "celebrity bisexual" who'd been stricken by the then-stigmatizing scourge.
Today, beloved by hordes of cultish fans and film buffs around the world, Rock Hudson is the often misunderstood (until now) golden boy of a glamorous bygone era.
On October 2, 2017, on the 32nd anniversary of his death, Blood Moon will celebrate his legacy with the release of new, notoriously indiscreet information that will revive the memory of this great American movie star in ways that his fans, during his cinematic heyday, would never have believed possible.
Details
Paperback 978-1-936003-55-6 $32.95
Trim size 6x9 Ppg 624