Kirk Douglas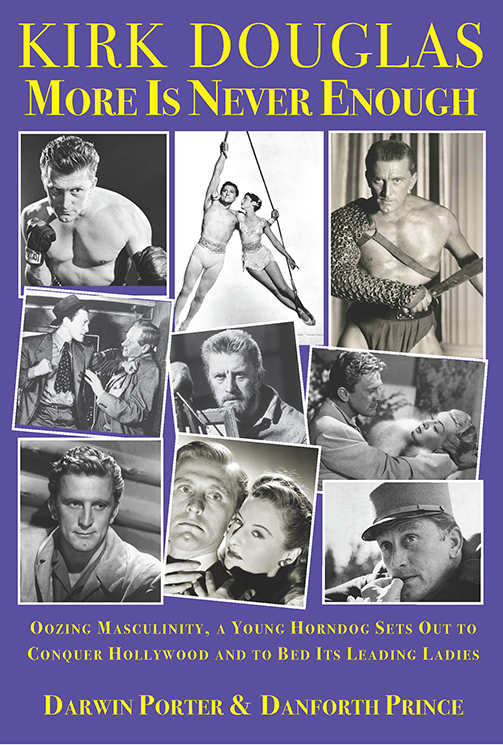 More Is Never Enough
Darwin Porter & Danforth Prince
Douglas was the son of Russian-Jewish immigrants, his father a collector and seller of rags. After service in the Navy during World War II, he moved to Hollywood, oozing masculinity and charm. Conquering Tinseltown and bedding its leading ladies, he became the personification of the American dream, moving from obscurity and (literally) rags to riches and major-league fame.
En route to his status as a myth and legend, his performances reflected both his personal pain and the brutalization of the characters he played, too. In Champion (1949), he was beaten to a fatal bloody pulp. As the sleazy, heartless reporter in Ace in the Hole (1951), he was stabbed with a knife in his gut. As Van Gogh in Lust for Life (1956), he writhed in emotional agony and unrequited love before slicing off his ear with a razor. His World War I movie, Paths of Glory (1957), grows more profound over the years. He lost an eye in The Vikings (1958), and, as the Thracian slave leading a revolt against Roman legions in Spartacus (1960), he was crucified.
All of this is brought out, with photos and stories you've probably never heard before, in this remarkable testimonial to the last hero of Hollywood's swashbuckling Golden Age, an inspiring testimonial to the values and core beliefs of an America that's Gone With the Wind, yet lovingly remembered as a time when it, in many ways, was truly great.
Details
Paperback 978-936003-61-7 $34.95
Trim size 6x9 Ppg 680
Print & emedia links for Kirk Douglas