Judy Garland and Liza Minnelli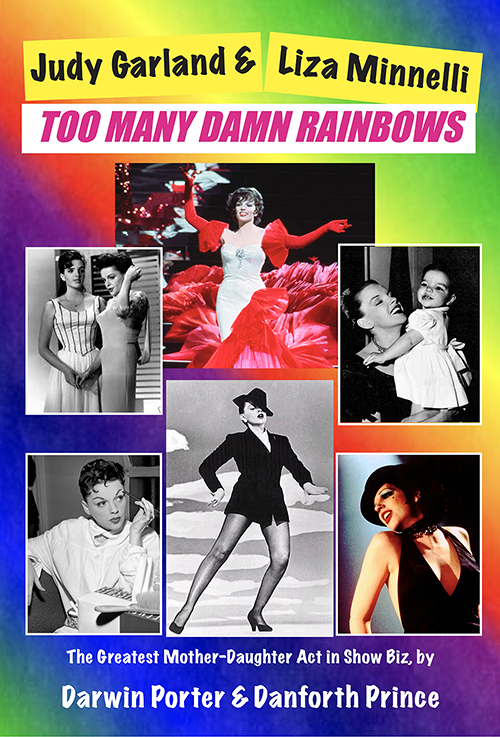 Too Many Damn Rainbows
Darwin Porter & Danforth Prince
Burt Reynolds: Put the Pedal to the Metal is the never-before-told saga of a tormented, lusty horndog who oozed masculinity. Macho, rebellious, and charming, and with a "loud and proud" footprint in country-western, rural America, he was a good old Southern boy who made hearts throb and audiences laugh. A former football hero, he was a guy you might have shared some jokes with in a redneck bar.
Raised in Florida, with links to Georgia and other parts of the South, he became the number one box office champ of the "anything goes" 1970s. Like a merry-go-round, he set out to seduce the leading sex divas of his era: Tammy Wynette, Lorna Luft (Judy Garland's daughter), Catherine Deneuve, Farrah Fawcett, Marilyn Monroe, Elizabeth Taylor. He even had time to fall in love with "heartbreakers" Sally Field and Dinah Shore. He also had an obsession for the aging screen goddesses of yesterday—would you believe Bette Davis and Mae West? He aroused homoerotic desires in Hollywood's two most famous bisexuals—Spencer Tracy and Cary Grant. There were those boozy nights with Elvis Presley, Frank Sinatra, and John Wayne, followed by "wench hunts" with Johnny Carson. He even plotted the murder of his nemesis, Marlon Brando.
Burt's story was one of rags to riches to bankruptcy, but he did it his way. His tormented life was filled with tabloid exposés, implications in two of Hollywood's most famous murders, and a career of bad choices. He rejected gigs as the male lead in the James Bond, Rocky, and Star Wars franchises, and some of the women he consorted with and/or married proved ruinously expensive.
Even so, he continued to make movies until a month before his death, sometimes satirizing his image as a macho and carefree movie star and stud.
Details
Paperback 978-1936003-69-3  
Trim size 6x9 Ppg 624 with 110 B&W photos
Price $34.95
Available in May 2020