The Sad & Tragic Ending of Lucille Ball: Volume Two (1961-1989) of a Two-Part Biography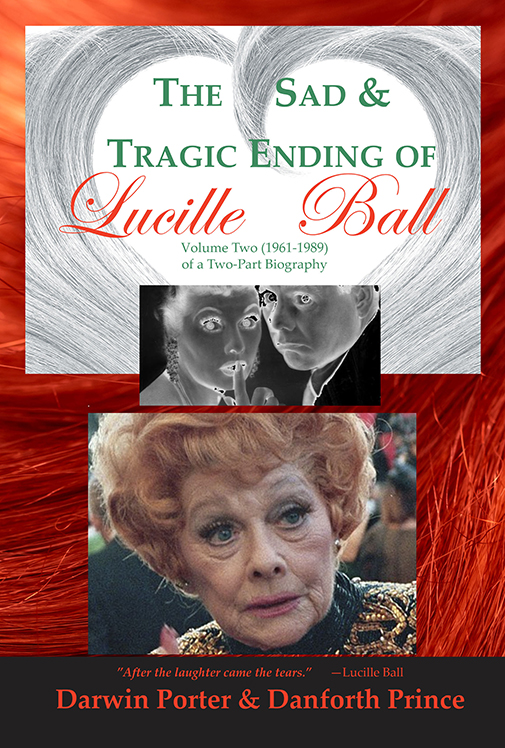 Darwin Porter & Danforth Prince
In the mid-1950s, Lucille Ball rose to the top of the Gallup Poll as the most famous woman on Earth. Today, she's one of the best examples of a celebrity who succeeded at crafting an influential "Second Act" after the spectacular success of her 1950s TV series, I Love Lucy and her devastating divorce from her show-biz partner of many years, Desi Arnaz.
The is the second volume of a two-part biography crafted by two of the most prolific show-biz biographers in America. Fans and readers have good reasons to anticipate it with gusto: The limited number of previous Lucille Ball biographies have each virtually ignored the last thirty years of her life, implying that her life ended in 1960 after her divorce from Desi Arnaz. One noted biographer summed up her three (emotional and fraught) final decades in five abbreviated pages.
In vivid contrast, we maintain that Lucille, an artist and renowned businesswoman, deserves more. She gets it in the 500+ pages (with photos) of this book, the most in-depth overview of this great American star ever published. It examines her second husband, Gary Morton, a "Borscht-Belt" stand-up comedian with a gift for diplomacy and the tactful handling of divas. It describes how she reinforced her status as a reliable television "staple" with at least two ongoing (albeit derivative) series, The Lucy Show, Here's Lucy, and as a last hurrah, the ill-fated Life With Lucy.  It examines the final years of a fast-collapsing Desi Arnaz, who, "post-Lucy," gambled away his millions and destroyed his health with late nights, liquor, and endless Havana cigars. It explores the drug addiction (and recuperation) of Lucille's son, Desi Jr., and the show-biz struggles (and occasional resentments) of both of her children, including Lucie Arnaz.
It also contrasts Lucille's "vintage mystique" with the emerging careers of younger stars (Carol Burnett, Mary Tyler Moore, Tom Selleck, Arnold Schwarzenegger, Cher, and about forty others) who admired and perhaps resented her, too.
It's also filled with details about Lucille's behind-the scenes banter with MGM's, Warner Brothers', and Fox's "dragons of yesteryear," once-celebrated stars dragged, by Lucille, back into the limelight through a formulaic and sometimes repetitive roster of "TV Specials" that celebrated a fast-dying way of American life.
Extra-marital, post-Desi indiscretions?  Let's just say that our favorite redhead liked her men big and strong—"No pretty boys for me."
Her most frequent co-star in the final decade of her life was the nostalgic "for the way things used to be in Hollywood," Bob Hope. A reporter asked Lucille to reveal something "we didn't already know about ol' Ski Nose."
She answered in a way that surprised almost everyone: "Spiro Agnew, the disgraced Vice President of Richard Nixon, writes a lot of Bob's jokes, although many of them are too dirty to ever get televised."
In one format or another, the very durable Lucille Ball appeared on television every year of the last thirty years of her life, making her last appearance (alongside an even more durable show-biz warhorse, Bob Hope) at the Academy Awards in March 1989. She died about a month later of heart failure. Tributes poured in from around the world.
Her legend, obviously, continues to thrive, stronger, perhaps, than ever. Media outlets have poured money and passion into retrospectives of her career, and biopics about her are being crafted.
From the grave, Lucille might with irony and humor, refer to these media brouhahas as "My Comeback."
Actually, she has never gone away. Her telecasts have been broadcast somewhere, in some country, every day since the 1950s. And in some regions of the world, little girls are, to an increasing degree, being named "Lucy."
Her reign continues decades after her heyday. Everybody Loves Lucy. This book attempts to tell why.
Details
Paperback ISBN 978-1-936003-80-8
Trim size 6x9 Ppg 570 with hundreds of photos
MSRP $39.99
Available in Mid-to-Late December 2021