Donald Trump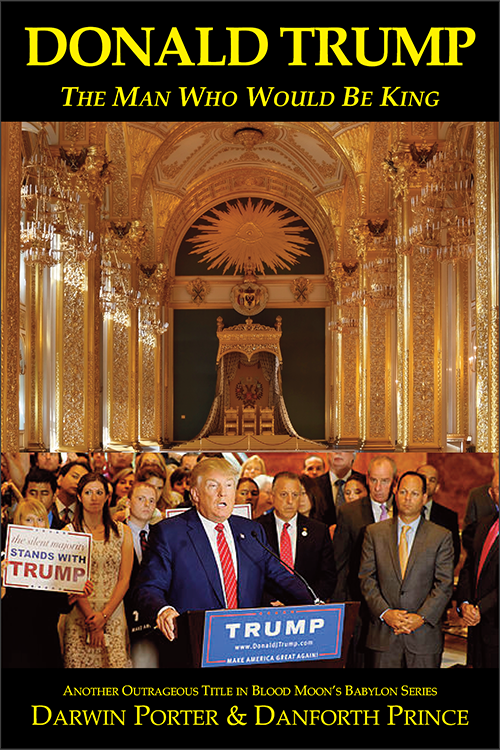 The Man Who Would Be King
Darwin Porter, Danforth Prince
Donald Trump occupies a unique place in the history of the Republic. In his bitter race for the White House, he has aroused fierce passions and raging furies.
The Trump dynasty's rags-to-infamy saga begins with "Roots" on the Klondike's Gold Rush Trail. Friedrich Trump (Donald's grandfather) laid the foundation of the dynasty by hawking decaying horse steak and over-the-hill prostitutes to frostbitten men dreaming of striking it rich.
The drama later shifts to mid 20th-century New York, where Donald's father (Fred) alters the skylines of Brooklyn and Queens to become "the Henry Ford of builders."
He sires a son with a Scottish lassie who grows up to become a baby boomer Pit Bull "with Robert Redford looks." He decides "I'll take Manhattan," becoming the Supernova of Fifth Avenue and a builder of towers.
As never before, "The Donald" is presented in all his glory (or vainglory): Corporate swashbuckler, modern-day Midas, master wheeler-dealer, ubiquitous TV cult celebrity, Reagan-era Gilded Mojo, guru for wannabee millionaires, master of schmaltz, choreographer of "The Deal," mogul Kahuna, the Barnum of self-promotion, global magnate, real estate tycoon, gambling casino kingpin that made fortunes on bankruptcies, landlord of the rich and famous, a Don Juan of the (penthouse) boudoir, a beauty pageant impresario, and the husband of three gorgeous models––two of them imported from Mitteleuropa, another a blonde Georgia peach with whom he had a baby girl out of wedlock.
Trump is nothing if not a study in contradictions. He is also called "The King of Debt," owing, for example, millions of dollars to the Bank of China, even though he criticizes the United States for doing the same thing.
This is the first biography on the market to include many of the details of Trump's politically incorrect race for the Presidency, a campaign that shocked and sometimes horrified the world. ("I call a rapist a rapist.") Read what went on behind the scenes as he set out (in his words) "to kick ass"––mainly, Hillary Clinton's butt.
Lambasting the Pope, defending the size of his penis, castrating sixteen other GOP hopefuls, including a woman, he attracted millions of "Trumpkins." His growing throngs of outraged enemies denounced his followers as "mental midgets and xenophobic troglodytes."
Another outrageous title in Blood Moon's Babylon series, this is a world-class first, a post-recession overview of America during its 2016 election cycle, a portrait unlike anything ever published on Donald Trump and the climate in which he thrived.
Details
ISBN: 978-936003-51-8
Price: $41.95
Trim: 6" x 9"
Page Count: 822
Print & emedia links for Donald Trump
The Florida Book Festival votes Donald Trump: The Man Who Would Be King the Best Biography of 2016.
Video links for Donald Trump
DANFORTH IN THE LION'S DEN: SHORTLY AFTER ITS RELEASE, A RIGHT-WING SHOCK JOCK (WILS RADIO IN LANSING MICHIGAN) INVITED HIM TO DEFEND THE PREMISES OF THIS SHOCKING EXPOSE. HERE'S WHAT HAPPENED.
BLOOD MOON'S EXPOSE of DONALD, THE MAN WHO WOULD BE KING. WHAT READERS SHOULD EXPECT.