Hollywood Babylon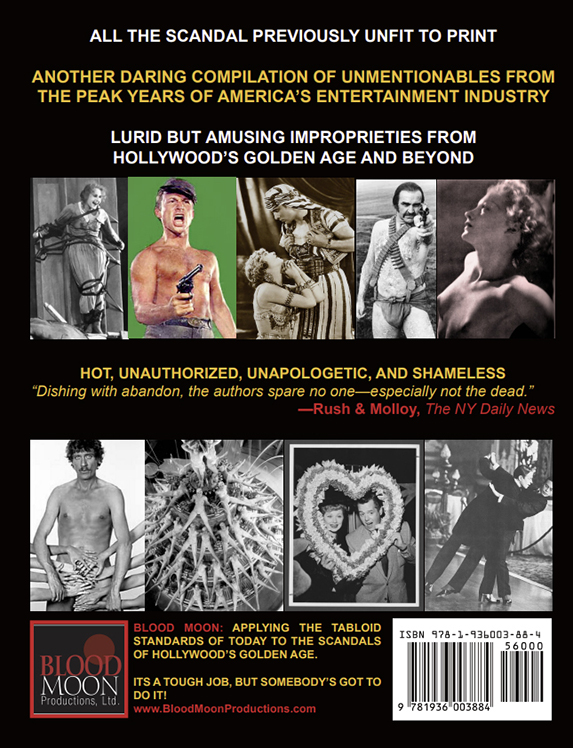 With Detours to Gomorrah
Darwin Porter, Danforth Prince
WHAT IS IT?
According to Blood Moon's President, Danforth Prince, "It's the best feature-length compendium of Hollywood gossip ever compiled, lavishly illustrated, and loaded with examples of the PR hurricanes generated by the false gods of fame, physical beauty, lust, greed, narcissism, and exhibitionism. This book might not be everybody's fantasy about what they really wanna crawl into bed with, but as a publishing phenomenon, it's the very best of its genre."
HOW HAS IT BEEN REVIEWED SINCE ITS FIRST EDITION? ANSWER:
With spectacular praise and enthusiasm from publications that include the NY DAILY NEWS, London's EXPRESS, a passel of entertainment-industry publications "Down Under," and show-biz blogsites around the world.
HOW BIG IS IT AND HOW MUCH DOES IT COST? ANSWER:
This anthology was conceived and designed as a softcover COLLECTOR'S ITEM for placement on COFFEE TABLES in living rooms that need a little nudge. It has a BIG footprint—something akin to an 8 1/2 x 11" news magazine— and the central image of its front cover is Fritz Lang's 1920s 'perhaps demented' image of THE WHORE OF BABYLON. Debauched and persuasive, she hovers over a passel of spectacularly famous, partially undressed celebrities culled from a century of show-biz mania. In this case, you can acquire her "favors" for $60.
Danforth Prince continued: "We're marketing this as the most lewdly sophisticated 'coffee table book' of the holiday season. It's a one-of-a-kind 'conversation stopper' or (depending on your point of view) 'conversation starter.' This is a 'hipster to hipster' gift you'd give to an embittered survivor who's already deeply familiar with the casting couch. It's the best accumulation of tabloid trauma ever published....a drunken sorority party's first prize; a 'I'm ready for another martini' cocktail klatsch's most embarassing panty raid."
"We've doubled its content from its previous edition," Prince continued, "by adding the 'concentrated cream' from rip-snorting OTHER biographies within Blood Moon's (very extensive) backlist. This anthology is what happens when Classic Hollywood gets down and low with the literary avant-garde of the Fabulous 50s, the Free Love Sixties; the Sexy Seventies, and the bighaired teledrama-driven Eighties."
"WHO'S NEW?
There's More about Ronald Reagan and "fellatio Nancy" than you might wanna know, and a cross-section of ONCE AGAIN IN THE NEWS stars you might, if not for this book, have forgotten."
IT'S BACK.! IT'S BABYLON!
And it's available after Thanksgiving through Amazon.com, Barnes & Noble.com and other online booksellers worldwide.
Details
Available Thanksgiving Day, 2022 through Amazon.com, Barnes & Noble.com and other online booksellers worldwide
ISBN 978-1-936003-88-4
Trim size 8.5 x 11 Ppg 345 with hundreds of photos
Trim: 6 x 9
Page Count: 488
Price: $60
Video links for Hollywood Babylon